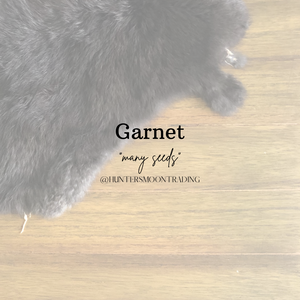 Garnet
Let's talk about Garnet and some of its healing properties and uses. The name Garnet comes from the Latin word Ganatum and translates to "many seeds" referring to pomegranate seeds. In old Spanish astrology, the garnet symbolized the sun, whilst in the Christian tradition, the Garnet symbolizes the blood of Christ. During the Middle Ages, people believed dragons to have eyes made of huge blood-red garnets. It is said that to dream of a Garnet will lead to the solution of a mystery. Garnets have been prized by civilizations throughout history, a necklace was once found with Garnet beads dating back to 3,000 BC! It is said to be one of the 4 stones given to King Solomon by God to rule over creation, and Noah is said to have taken a finely cut glowing Garnet that helped him tell the difference between night and day when the sun and moon stopped shinning during the flood. In Muslim lore, the Koran tells us that Garnet illuminated the fourth Heaven, whereas in Hindu beliefs the fingernails of the dead demon Vala fell into lotus ponds on earth as Hessonite Garnets. Garnets have long had an association with blood due to their color. Although many people associate them with healing wounds and invulnerability, some tribes used them as weapons in the belief that they would cause more deadly wounds than normal. In 1892 the Hanzal used Garnet bullets against British troops on the Kashmir frontier!
Garnet's metaphysical properties include: promoting courage, joy, and creativity, inspiring us to grab the future and create change, attracting abundance, instilling emotional balance, encouraging magic and spiritual devotion. 
Garnet can be found at the heart of many ancient legends, including how it was suspended in Noah's Ark to diffuse light. The Greeks called this fiery red stone the "lamp stone" as it was believed to give one the power to see in the dark when worn as a pendant. Throughout the medieval period, sexual disorders were thought to be relieved by applying garnet directly to the genital organs. 
Garnet can come in a variety of colors but it is most commonly red. Red garnets help the issues of security, safety, and passion. Green garnets strengthen unconditional love and promote prosperity. Yellow and gold garnets boost self-esteem. Orang garnets strengthen your sense of identity. Other primary uses include aiding in Chakra cleansing, supports grounding, enhances passion and love, promotes helping one another, cleanses negative energies and helps amplify other crystals. Garnet works well when paired with Smoky Quartz or Clear Quartz. If you are going through a transition, carry garnet in your pocket or wear it as jewelry to help ease you through it.
Garnet is said to be the stone of sensuality and passion, with the incredible power to induce intense feelings of desire for one another. Garnet revitalizes feelings, promotes self-esteem, and controls anger or jealousy. Several varieties of garnet are said to hold specific powers, such as the most common and famous "pyrope" garnet which is described as "living fire". When worn or carried garnet bestows you with vitality, charisma and the ability to draw love to you. Almandine garnet is said to be a talisman of protection while also being a stone of physical love, stimulating the sex drive and inspiring love and devotion. Wear or carry garnet every day during the next lunar cycle to attract new romance or to bring a current lover closer to you. 

*resources: The Citrine Circle, Karen Frazier & Judy Hall
---