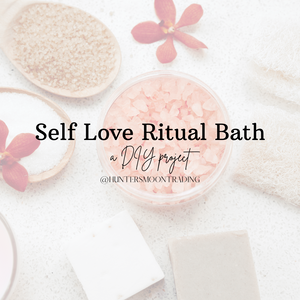 DIY: Self Love Ritual Bath
Creating a special time and space for yourself should be a weekly ritual, make 
your mental health and well being a priority by turning your bath into a self-love ritual. 
2 oz Epsom salt
1 oz Pink Himalayan sea salt
5 drops of Rose essential oil
5 drops of Cedarwood essential oil
1 tbsp Rose Petals
Tips:
Add Rose Quartz and our Moon lit Garden candle around the bath to amplify your intentions. Can also be paired with a good book and a nice cup of our Moon Kissed tea. 
Suggested intentions:
I love and accept myself as I am. I am choosing to be kind to myself and will only treat my body with respect. I completely trust myself and my feelings are valid. 
---