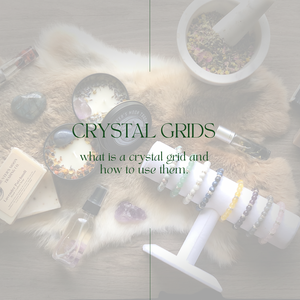 Crystal Grids
One excellent way to amplify the power of crystals is to use a crystal grid. What is a crystal grid you ask?

Crystal grids are a group of crystals placed in a geometric pattern in a intuitively chosen area such as a plate or table top, and set with intentions to initiate healing. To create a crystal grid you need a minimum of 4 crystals, however most grids have more. The center stone is typically the largest stone and should be the base for your intentions, then strategically place smaller stones around it to create a geometric pattern.
How to create your own crystal grid:
Cleanse and charge your crystals before we start. (See previous blog posts)

Start with your larger stone, based on your intentions.

Place accent crystals in even spaces around the center stone to create a pattern. For example; if using 5 stones you would place one in the center and the other 4 on each side equally spaced in a square like shape.

After placing all stones in your grid, use your index finger to trace an imaginary line around your grid from one corner stone to the next. Then trace lines from the center stone to each corner stone. Be sure to focus on your intention for the crystal grid as you do this.

You may either leave your crystal grid and cleanse it regularly or you can clean up your grid when your finished and be sure to than the earth for what it has provided you with.
Crystal grid exercise for self love:
You will need 1 large Rose Quartz crystal and 12 smaller Rose Quartz Crystals.
After cleansing your crystals place the large Rose Quartz crystal in the center of your space.

Arrange your smaller crystals around the center stone in an infinity shape with 6 crystals in either side.

Trace your lines starting at the center stone while repeating the affirmation "I love myself just as I am."

Leave the grid in place as long as you would like.
Rose Quartz promotes self healing and self love while the infinity symbol represents everlasting and infinite love
---